Did you know?
Eczema occurs in up to 30% of the Australian population across a range of ages. It often begins in infants between 2 to 6 months and usually improves as they grow older.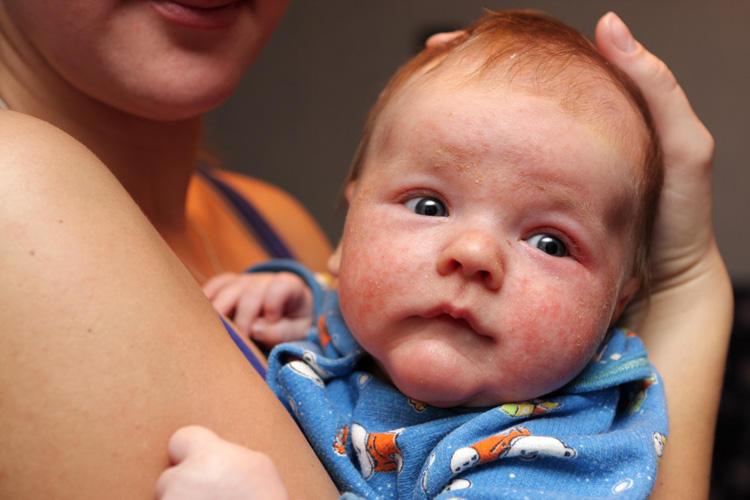 What is Eczema?
Eczema (sometimes called dermatitis) is a dry, red and itchy condition that causes the skin to become inflamed or cracked, and in some cases weep. The cause of eczema is still not known, however it can sometimes be linked to allergies, asthma or hay fever. An outbreak can be triggered by various things including: heat (hot baths, dry air, overheating in bed), soap, detergents, medicated and perfumed products, bubble baths, fabric, allergies to food, dust mites, pollens and fur.
Our Tips for Prevention and Treatment of Eczema
Prevention of an eczema outbreak is preferable to treating one. One of the keys to prevention is to avoid chemical based products. Many eczema sufferers also say that using steroid free, organic skin care products in general reduces the frequency and/or the severity of their outbreaks.
1. Avoid Triggers
Avoid the main aggravating factors, such as overheating, air conditioning, exposure to pets, exposure to grasses and pollens and contact with chemical irritants.
2. Bathing and Cleansing
Use gentle, chemical free products such as our Organic Goats Milk Cleansing Bar or Organic Hair and Body Wash that will not dry the skin out.
3. Clothing
Wear loose fitting clothing made from natural fibre such as 100% cotton or bamboo. For babies or young children that scratch the affected areas, mittens can stop them scratching and exacerbating the flare up.
4. Soothe and repair
Apply a healing cream such as our Intensive Soothing Cream with 100% natural and nutritious Shea Butter as a base, healing Calendula extract and Rosewood essential oil as the therapeutic components. We have many testimonials from customers who have shown amazing results from using our soothing cream.
5. Moisturising
Keep skin well moisturised, with organic skin care products such as our Moisture Rich Lotion or Paw Paw Balm to avoid unnecessary drying of the skin that can lead to irritation
Other Tips
Avoid the main triggers, such as overheating and contact with chemical irritants.
Reduce itching by using wet dressings or cool compresses. If scabs develop, remove by bathing in lukewarm water to soften the scabs, and then gently wiping the crusts off with a soft, wet towel.
The above suggestions are not to be regarded as medical advice.
For ongoing cases, consult your healthcare practitioner.
May is Eczema Awareness Month in Australia for 2017. Find out more on how to manage and treat eczema at www.eczema.org.au.
We have put together an Eczema Care Pack for a very special price, with products that will help to soothe and treat. Find it here.
About the Author: Antonette Golikidis has studied Natural Health Science at the Australian College of Natural Medicine and is qualified in Remedial Massage Therapy and Aromatherapy.