Finding easy, healthy snacks that the kids will actually enjoy can usually be a bit hit or miss …So we have compiled some fool proof inspiration for their school lunchboxes that are guaranteed to please!
Every child is different, and while some hide under tables at the thought of anything resembling a vegetable, others will happily snack on a carrot stick with some hummus. With this in mind, after research and trialling this list of nutritious snacks, we have also added variations that will make it easier for you to adjust if needed.
Wholegrain crackers with cheese and vegemite
A little more exciting than a sandwich and will still keep the crunch for their morning recess. Swapping butter with avocado gives them the creamy taste without those unhealthy fats. If crackers are not a favourite, you can try rice cakes instead!
Banana Chocolate Chip Oatmeal muffins
You can prepare and freeze these ones ahead of time, making them a great weekend afternoon activity for you and the kids too! Your little ones will be thanking you for this tasty snack that gives them energy and curbs that afternoon crash.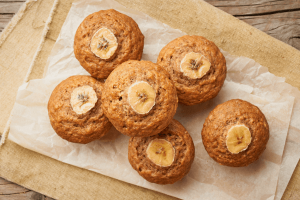 Our favourite is from Jar of Lemons. The wonderful thing about this recipe is that you can adjust as much as you need – if you would like a dairy free alternative for example, simply substitute the chocolate chips with a dairy free alternative like these choc chips from absolute organic.
Pasta salad
Quick, easy, and always a crowd-pleaser! Simply boil some of your preferred pasta (We love wholemeal pasta spirals), add some vegetables you may have in the fridge (carrots, broccoli, and zucchini all work very well hidden in pasta dishes!)
And add a delicious pasta sauce. Our top picks are a pesto pasta or a pasta salad with egg mayo.
Vegetable sticks with dip
A very easy treat. The secret is adding sweet bits like strawberries, grapes, and sultanas to keep it fun for the kids. Alternating between dips and the types of vegetables keeps the little one interested if this is going to be a staple lunch time snack! Great dips to accompany veggies include hummus, avocado dip and french onion.

Cheese and vegemite sandwich
This one is a true Aussie classic (and hopefully one that hits the spot for all kids!). Using a high fibre bread, like a fortified white bread or a wholegrain or wholemeal loaf can keep your kiddos fuller for longer.
The power of dairy
Getting in dairy at an early age can be a bit tricky! Making your own flavoured milk (preferably with a low sugar flavouring) and sealing it in a secure bottle for school can give them the calcium they need. Cheese sticks are also a great and easy calcium fuelled snack.
Mac and cheese
To get a few more veggies into this classic dish, you can boil or steam broccoli and pulse it until it's a liquid (sometimes adding a little mustard and some water helps with colour and consistency). Mix in the broccoli to your cheese sauce, and hey presto! Veggie mac n cheese.

Granola bites
Make your own or buy from the store – whichever you prefer. The key here is getting some good carbohydrates. If nuts aren't allowed at school, then you can use a fruit and seed-based granola recipe. Making your own allows you to get creative in the kitchen with the kids as they can make their own school snacks!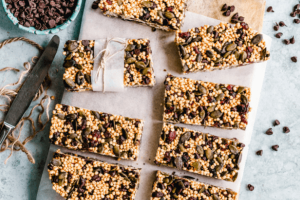 Fruity delight
Simply add their favourite yoghurt to a section of their lunchbox, and in another add some mixed berries such as strawberry, raspberry and blueberries. Other fruits such as kiwi and banana work well for this too! When it comes time to eat the yoghurt for snack, they can add the real fruit pieces into their yoghurt and enjoy their own little healthy dessert!
Popcorn
Air popped popcorn with any topping you choose can be the perfect snack. From a salty snack to a sweet snack – or both – your kids will enjoy the crunch! A few bits of chocolate or even salty pretzels also add a bit of fun excitement to this not-just-for-the-movies snack time treat!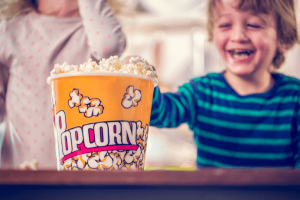 Have you tried these with your own kids? Be sure to tag us @littleinnoscents and let us know how they enjoyed it! We hope these lunchtime ideas bring lots of playground joy to your very own littles.