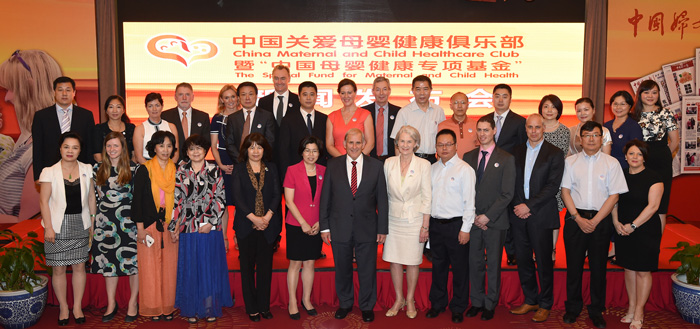 Little Innoscents founder Antonette Golikidis, was recently invited to China by the China Women's Development Foundation (CWDF) and EPOH Health Tasmania and co-sponsored by China Women's Daily, for a joint launch of a charity fund and a "Care Club" to benefit Chinese mothers and children.
Antonette spoke as part of a panel at a seminar on "Maternal and Child Health and Industrial Development", and participated in a question and answer session on maternal and child health-related topics including skincare for mothers and babies. The panel consisted of Chinese and Australian maternal health care experts and academics.
The new initiative is a platform for cultural exchange between Australia and China as well as economic and trade exchanges, giving the opportunity for high quality and safe Australian products, including Little Innoscents and many other health care brands, to be able to introduce their products to the Chinese market.
The club will be available to mothers in China via a nursing consulting service providing medical checks and advice, health counseling services, private and public hospitals, community health centers and the club's web site.  An important part of this service is to help the mothers learn about high-quality, safe products.
A Chinese website providing advice and products will be set up with China Women's News and the All China Women's Federation, and will be promoted in up to 3000 mater­nity hospitals.
The joint venture that has created the China Mother and Baby Healthcare Clubs was driven by Tasmanian pharmacy owners Peter and Elizabeth Hope of EPOH Health, the joint ventures will enable mother and baby clubs to be set up in public­ and private maternity hospitals across China.
The first China Mother and Baby Healthcare Clubs will be themed with Australian bush animal characters, in private maternity hospitals, with hospit­al group Jia Yin and the aim is to be able to expand to public hospitals in the near future. The first club will be rolled out within the next month.