New Eco Cleaning Products
We all love a sparkling clean home that smells fresh and gives us a sense that our families are kept clean and free of dust build up and bacteria. BUT do we actually realise that many store brought products are dangerous and highly toxic – yet we are still using them in our homes and breathing in the fumes, damaging our bodies by affecting our immune system and causing skin irritations.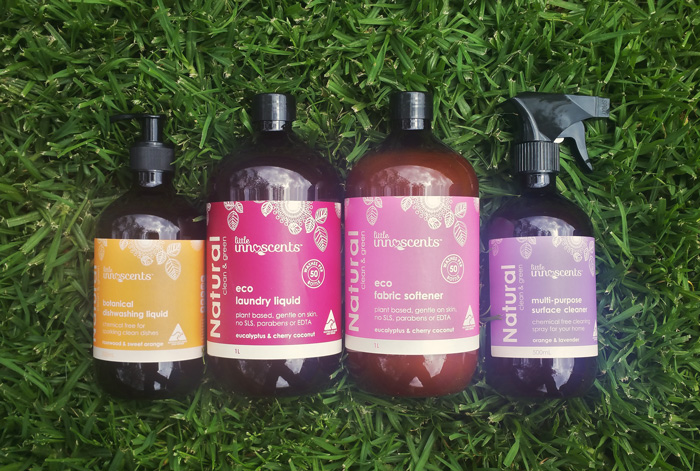 The Little Innoscents eco cleaning line offers a better alternative, boasting no nasty chemicals and effective in cleaning, you can rest assured that even those with sensitive skin will benefit from this range. Our mission is to protect our families from chronic diseases by avoiding toxins; you'll see that it will be worth the effort to avoid the poisons we are readily buying. Our safe and clean plant based range encourages change leading the way in environmental responsibility and performance. Our products are free from phosphate, ammonia, nitrate and chlorine which pose a risk to safety and environmental hazards.
Our ingredients are carefully selected to be gentle for you and your family, we also love our planet and are conscious to produce products that are rapidly degrading without causing harm designed to help protect the environment which we believe has a huge ripple effect on our lives and the world around us helping to build a community of conscious consumers. Little Innoscents is very proud to provide you with healthy and effective products that are made from 100% natural and botanical ingredients that are cruelty free, Australian made and owned. The new eco cleaning range includes Laundry Liquid, Fabric Softener, Botanical Dishwashing Liquid and Multi-Purpose Cleaning Spray.
DID YOU KNOW?
The detergent you're using may contain a cocktail of potent chemicals, some of which the manufacturer doesn't even have to list on the label. This reduces the odds that you'll ever discover what's really in there.
Not only are these chemicals potentially damaging to your health, but they are also contaminating waterways and harming our beautiful Australian environment!