New Little Innoscents Natural Baby Wipe Solutions
Skin health is a major concern for a lot of people and the Little Innoscents wipes offers a natural wipe solution that enriches and soothes.  Free of alcohol, artificial fragrance, colours, parabens or phthalates you can rest assured that even those with sensitive skin will benefit from this pure and natural formulation.
Our thick and absorbent ultra-soft wipes work a treat and are intended for multi-use.  Blended with plant based ingredients and infused with soothing Aloe Vera and Vitamin E they are simply an easy choice for your babies' wellbeing.
Our wipes can be used for just about everything; designed to cleanse soothe and care they are effective on wet bottoms, sticky fingers and toys.  Can be used to wipe down faces and dummies and even work a treat for stubborn make up reside and impurities.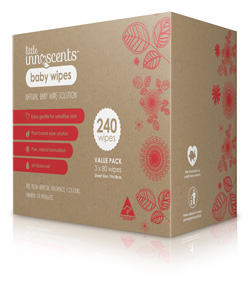 Fall in love with our pure range of eco products that will make you feel safe and secure.
Little Innoscents is very proud to provide you with healthy and effective products that are made from 100% natural and botanical ingredients that are cruelty free, Australian made and owned. Our all new wipes are available as a single 80 pack or as a 3 x 80 box pack.
Did you know?
Baby wipes make some children come out in painful, red rashes, new research suggests. A chemical preservative called methylisothiazolinone (MI) in the wipes causes an allergic reaction in some children.  It also dries out mums hands not only babies bottoms…
Try our new 'natural solution' baby wipes today!