How Can Essential Oils Help You?
Aromatherapy has stood the test of time tracing back thousands of years. It is the basis of complementary medicine using essential oils derived from flowers and plants to heal and promote well-being. Some of the main aromatherapy benefits include:
boosting the immune system
relieving muscle pain
insomnia
stress
inflammation
anti-inflammatory
anti-infectious
anti-viral
uplifting
skin conditioning
circulation and the list go on and on
The reason essential oils are so popular is that implementing aromatherapy into your lifestyle is simple and easy.  They are most typically inhaled by using an oil burner or vaporiser, applied to the skin via creams and lotions or they can also be diluted in carrier oils such as olive, grapeseed or sweet almond or even used neat on the skin in some cases.
Using essential oils can bring you one step closer to making healthy living your new way of life…
Here is a basic introduction to 4 common power house essential oils that you can incorporate into your everyday life today
Lavender Essential Oil
One of my favourite and the most universal oil to relieve stress, help sleep problems, ease painful menstrual cramps and work as an antiseptic is Lavender Oil.  It can even be used on minor burns and skin irritations as it has amazing antimicrobial properties.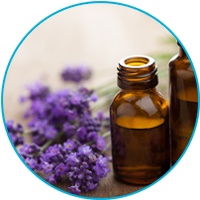 Lavender is one of the most fragrant, versatile and useful oils available, offering a wide array of aromatic and topical uses.  Unfortunately, many people have been put off by Lavender in recent years due to all the synthetic oil going around but True Lavender has a wonderful scent and incredible healing powers.
You can freshen the air and uplift the mood of your home, office, or other areas with a few drops in a burner.  It helps with allergies and nervous tension.
While in a bath a few drops of Lavender will promote relaxation and adding a few drops on your pillow will help with a restless sleep.
Great for skin complaints it can be rubbed neat onto the skin to help with cuts, bits and rashes and headaches.
Massage into overused muscles to ease muscle tension and general aches and pains, you can even apply a few drops of Lavender oil to sunburned skin to reduce redness, ease inflammation, and cool the affected area.
Massage 1-3 drops of True Lavender oil on temples, over sinuses, and on the forehead to ease tension and headache.
Rub the oil on chapped lips or skin to moisturize and condition them.
Lavender Oil blends particularly well with most oils so have some fun experimenting.
Hint:  Blend True Lavender Essential Oil with Sweet Orange and Lemon and Spearmint to make a beautiful room enhancer.
Peppermint Essential Oil
Peppermint has a fresh, minty and quite uplifting minty aroma that produces a cooling and refreshing sensation when applied to the skin.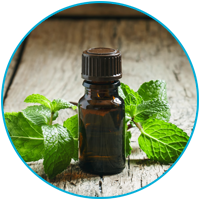 Some of its aromatherapy benefits include helping to ease tension headaches and muscular aches and pains and nausea.
Try burning Peppermint Essential Oil as a stimulating blend intended to enhance alertness and stamina.
As a naturally cooling oil it can be used to help reduce fever. Apply peppermint oil to the area to reduce swelling, relieve pain, and eliminate the chances of uncomfortable inflammation.
You can freshen the air and uplift the mood of your home, office, or other areas with a few drops in a burner as it helps with allergies and clears the sinus
Peppermint blends well with Eucalyptus, Rosemary, Lemon and Marjoram.
Hint:  use a few drops of Peppermint Oil in a non-scented cream to help reduce the sting of sunburn, reduce redness of inflamed skin. It will reduce itchiness and cools down the skin.
Rosemary Essential Oil
Rosemary Oil has a clear, powerful refreshing herbal smell which also gives it a crisp and clean scent.  Great for stimulating the brain, improving memory and mental clarity, while helping with a variety of congested respiratory tract problems, stiff muscles and cold.
In a burner, rosemary oil can be helpful for congestion, overwork, sinusitis and mental and physical tiredness. Furthermore, it stimulates the brain, improves memory and promotes clear thought.
Blended in a massage oil or diluted in the bath, Rosemary Essential Oil can assist with mucus congestion, muscular aches, cramps, pains and spasms, stiff neck, overwork, rheumatism, arthritis, colds, and physical tiredness.
This essential oil blends well with Clary Sage, Geranium, Lavender, Lemon, Rosewood and Rosemary.
Hint:  use a few drops of Rosemary with Lavender to give the air a clean and crisp scent that will help you concentrate.
Tea Tree Essential Oil
Native to Australia, Tea Tree produces oil from its leaves and branches creating a highly effective oil that just about helps with everything.  It can relieve most tropical infections and diseases. A must have in any family medicine cabinet, it is meant for topical application only so no drinking!
Tea Tree oil heals wounds quickly and protects them from infection, if you are suffering from cough and cold, congestion, bronchitis and other troubles associated with colds, you can get relief using Tea Tree Essential Oil as it can kill and keep away certain microbes and viral infections so keep it burning in the air.
Also a great insect repellant to ward of mozzies just a few drops rubbed on the body will keep them at bay.
I like to use this oil as a preventative neat on the skin directly on wounds, sores, cuts or insect bites and stings, to protect them from infections. It is as good as any antibiotic, but without any of their adverse side effects.
Rubbed in a massage blend or added to the bath it can offer relief from muscular aches and pains.
This Essential Oil blends well with Clary Sage, Geranium, Lavender, Lemon, Rosewood and Rosemary.
Hint:  If you are having a problem with lice then this is your oil – try adding a few drops with tea tree oil to a water bottle and use to spray on children's hair as a preventative in the morning to help keep the creepy crawlers away.
View our full range of essential oils here and start learning some these aromatherapy benefits for yourself.