NO ANIMAL TESTING
Little Innoscents products are not only certified organic, but they are also Cruelty Free, with none of our products being tested on animals.
Cruelty-free is a label for products or activities that do not harm or kill animals. In simple terms NO ANIMAL TESTING.
Sadly, many products are tested on animals and are often painful and cause the suffering of millions every year. Animals such as rabbits, rats, mice, and guinea pigs are forced to eat or inhale substances, or have a cosmetic ingredient rubbed onto their shaved skin, eyes or ears every day for 28 or 90 days to see if they have an allergic reaction. Then they are killed and cut open to examine the effects the ingredient has on internal organs. The very sad thing is that this method is simply not necessary anymore…. As technology developed, outdated animal testing is being replaced with quicker, cheaper and more accurate methods. For example, reconstructed human epidermis—which uses human skin donated from cosmetic surgery to replace the rabbit Draize skin test—is more relevant to human reactions. Other methods replace the Draize eye test by using in vitro (test-tube) human tissue.
Another cruelty-free option is using ingredients that have already been established as safe, such as the 20,000 ingredients in the European Union database.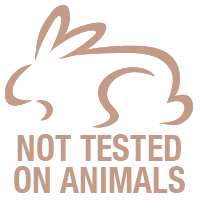 We are accredited cruelty free with Choose Cruelty Free (CCF) which is an independent, non-profit organisation based in Australia, which actively campaigns for an end to animal testing of cosmetics, toiletries and other household products. They produce the CCF List, which is a wonderful resource for checking that the products that you are using are 100% cruelty free.