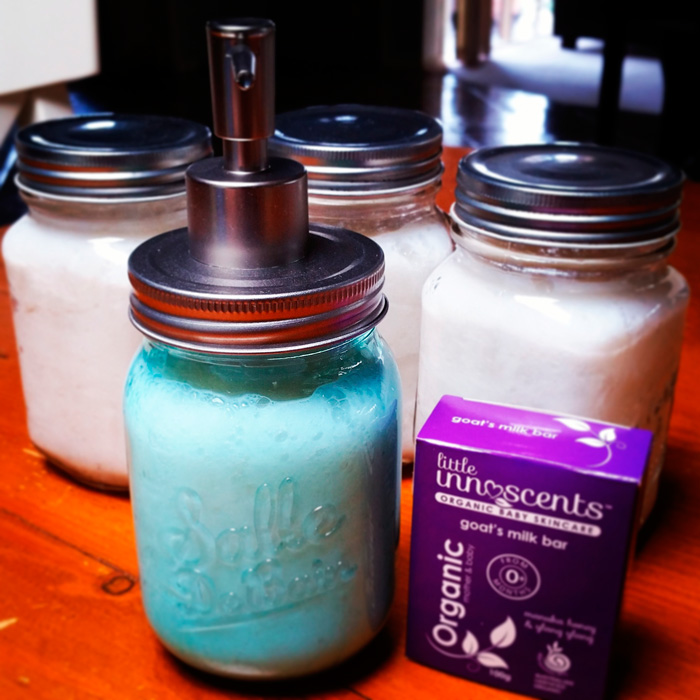 Last week one of our lovely customers asked if we had ever tried to make liquid hand wash from our Organic Goat's Milk Cleansing Bars, so we decided to give it a try!
With a little bit of testing and experimentation, this is the recipe that we came up with, which was adapted from this one by The Road to Loving My Thermomix.
Goat's Milk Liquid Hand Wash Recipe
Ingredients
1 x Little Innoscents Organic Goat's Milk Bar, cut into 6 cubes
7.25 cups of water (you could use up to 8 cups for a thinner mixture)
Instructions for Thermomix
Mill the Goat's Milk bar on speed 5, gradually building up to speed 8 until fine.  You will be able to hear the difference in the sound once the soap has milled fine enough.
Add 0.25 cups of water. Melt at 90 degrees, speed 2 for approx 2-3 minutes or until melted.
Continue to mix at 80 degrees, speed 2 whilst pouring the rest of the water (7 cups) slowly in to the bowl through the hole in the lid.
Continue to mix for 2 mins or until nice and smooth.
At this point, I wasn't sure if it was going to work, as the mixture was clear with bubbles on top. Ignore this and continue on with the rest of the steps.
Pour into a bowl or leave in the thermomix bowl if you are not planning to use it again that day.
Leave in the bowl for around 10 – 12 hours, stirring every hour or so. I left mine overnight and gave it a big stir in the morning. It thickens to fairly solid mass, but stirring it returned it to a liquid handwash consistency.
This mixture is quite thick, so use a funnel with a large opening to fill your hand wash bottle.  Keep the excess in extra jars or bottles in the back of the cupboard out of the light until needed.
Tips:
Peta from The Road to Loving My Thermomix suggests that if it's too thick just pop it back into the Thermomix on speed 8 for 30-60 secs in order to smooth it out again and you can thin with a little water if needed. If you prefer a thinner mixture, just increase the water to 8 cups or more depending on your desired consistency.
Once cool it will have thickened. Beat mixture with a electric mixer to fully incorporate. If the mixture seems too thick, you can add more water to thin it out. Pour into containers and you are all set!
Non-Thermomix Instructions
If you don't have a Thermomix, you can still make this soap by replacing the above instructions 1-5 with the following directions and then cooling and stirring as above:
Grate up your goats milk bar by hand or in a high powered blender
Heat the water into a pot until just before boiling.
Add in the grated soap and stir. Mix until all the soap is completely dissolved
Continue steps 6-8 as above