We all love a gorgeous toothy grin from a little one, but its not always easy to convince a baby or toddler to brush their teeth or for them to allow a parent to brush for them in order to make sure that they protect those cute little toothy-pegs.
Healthy teeth are important, especially baby teeth. Children need healthy teeth to help them chew and to speak clearly.  Baby or 'milk' teeth are with us for much longer than just our baby years – some are in the mouth until around 12 years of age. Babies and toddlers are at just as much risk of dental decay as an older child or adult, so caring for your baby's teeth should begin at birth.
Children should have their first dental checkup at 1 – 2 years of age.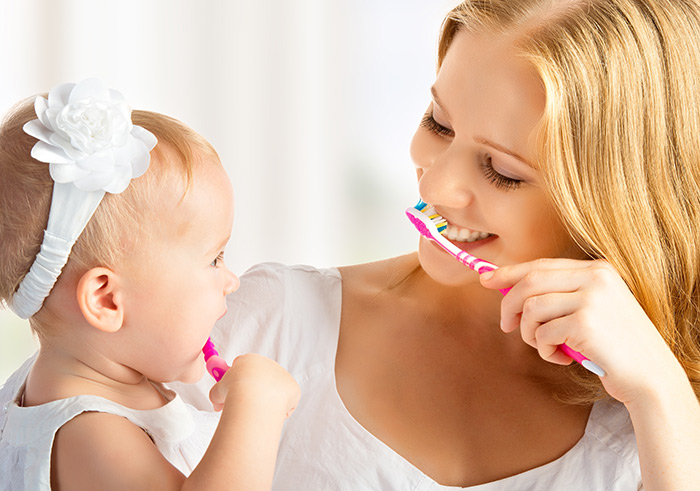 Tooth Brushing Tips for Babies and Toddlers
Start cleaning and caring for your baby's gums well before the first tooth appears. Just wipe gums gently using a clean, damp face washer or cloth.
Baby teeth usually start coming in from around 6 – 10 months, so start brushing them twice a day (morning and just before bed) as soon as teeth appear through the gums with a small extra-soft bristled brush or a finger toothbrush.
Enourage your child to rinse and spit after brushing, however most babies and toddlers can't avoid swallowing some toothpaste, so use a small amount of a safe, fluoride free formula like the Little Innoscents Milky Whites Toothpaste.
Aim to spend 1-2 minutes cleaning the inside and outside surface of the teeth and gums.
If your child is reluctant when it comes to brushing their teeth, try some of these tips:

Make it as fun and positive an experience as possible. Toddlers love to copy what their parents are doing, so try brushing your own teeth at the same time so that you are modelling behaviour for them to join in and copy.
Ensure that your child feels secure and safe in your lap.  Sit your baby or toddler facing the bathroom mirror so they can see their teeth being cleaned.
Sing favourite nursery rhymes or play songs that are reserved only for tooth brushing time.
Create a reward system for good tooth brushing time.  Make the reward a fun activity that you can do after the brushing is done, rather than food or drink rewards.
Get some of their favourite toys involved and 'pretend' to brush their teeth first.
Let them handle and play with their toothbrush to get comfortable with it before handing it to mum or dad to help with brushing.  Children generally can't effectively brush their teeth by themselves until around 6-8 years of age, but encourage them to try it themselves first, and then assist them to do it properly.
Make up a counting game for cleaning each of the areas of teeth inside the mouth ie front, right side top and bottom, left side top and bottom etc.