We have some fantastic and long awaited news to share with you today. Our new organic toothpaste has now arrived and is ready to ship to you with your next order.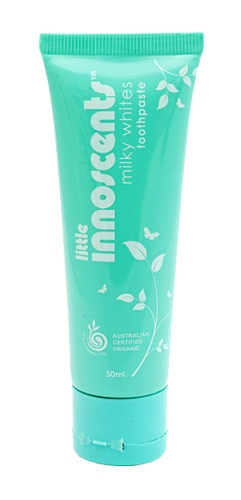 Formulated with the purest ingredients, the Little Innoscents toothpaste is a natural Fluoride-free formula with a cool and minty refreshing taste mixed with a hint of organic strawberry swirls that the kids will love.
This certified organic toothpaste has been formulated with organic and natural ingredients such as Aloe Vera, Organic Stevia, calcium and organic strawberry extract to provide a healthier alternative to regular toothpaste making it a safe, gentle and effective toothpaste option for little mouths.
Free of surfactants, artificial sweeteners and mineral oil.   Adding the cleaning power of bicarbonate of soda the Little Innoscents toothpaste will ensure healthy, happy teeth and gums.
For many years now, people believed that fluoride prevents tooth decay and strengthens tooth enamel.  However, in the past few years we've discovered that it actually does NOT do anything to protect your teeth.  Many people know of the dangers of fluoride and are seeking an alternative fluoride-free option.
My favourite part of this product is that instead of cautioning children not to swallow (like that is ever possible).  Well now you don't have too as all the nasties are removed to provide a healthier alternative to regular toothpaste.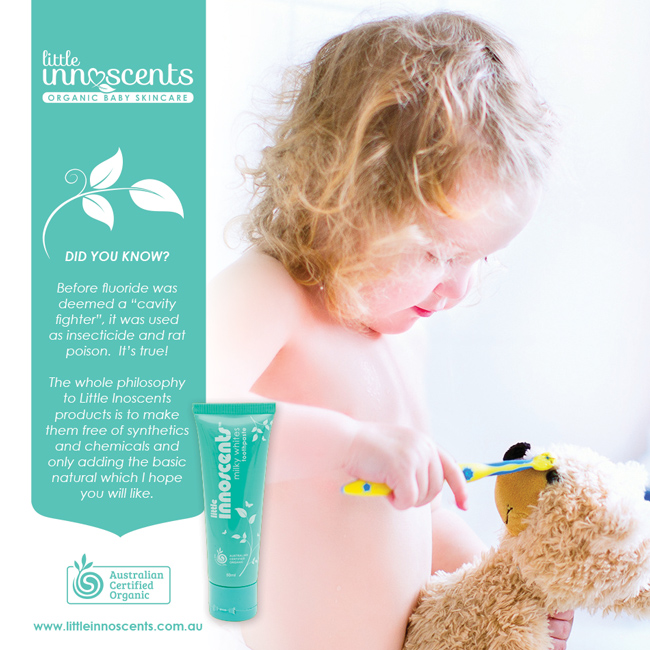 Try for yourself the Little Innoscents Milky White toothpaste, it's guaranteed to spring clean your little ones pearly whites.
Directions:  Only a small amount is required and one tube should last a while.  Simply apply to toothbrush or direct to gums with finger to brush and cleanse.
Founded by Antonette the Little Innoscents baby skincare range offers a natural, organic and affordable alternative to everyday baby and child products.  Our whole philosophy to Little Innoscents is to make our products free of synthetics and chemicals and only adding the basic naturals which I hope you will like
Priced at RRP $4.99, our organic toothpaste comes in an easy to use 50ml squeezy tube with a flip-top cap.