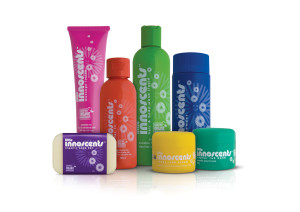 By Candice Aiken.
From the moment babies are born they are exposed to harsh and dangerous chemicals through various forms. In particular through the preservatives and additives in processed food and the toxic products placed on their perfect, untouched skin. In order to understand more about why various ingredients are so toxic for little ones, we asked Antonette Golikidis from Little Innoscents to share with us her story and why it is so important to use certified organic products.
Antonette started out by making her own creams in the kitchen, drawing on her studies and experience in health therapies (remedial massage and aromatherapy). After 10 months of trialing and testing, she formulated the beautiful range which is known as 'Little Innoscents'. Here's what Antonette had to say…
Tell us about Little Innoscents… where did the name come from and how did it all start?
Frustration and desire for completely chemical-free skincare for my own children drove me create Little Innoscents – an exclusive organic baby skincare range – five years ago. After falling pregnant with my first child, I saw a gap in the market for natural and organic baby skincare products with claims that could be trusted. I had searched high and low for baby products that were chemical free and was disappointed to find a limited range which were not only difficult to get my hands on but were overly expensive and often misleading. I was so tired of "pretend organic" companies making natural claims and misleading consumers.
Little Innoscents was a simple creation of my values and ethos as a person. I have always regarded children as the little innocent ones who are brought on this earth for us to nurture and keep safe from all the bad habits and nasty environmental effects that we create throughout our lives growing up. Combined with beautiful signature scents I came up with "Little Innoscents".
Why is it so important to use chemical-free and completely natural ingredients on babies/children?
Time and time again I see many ingredients in skincare in particular foaming agents aggravate babies' skin. The epidermis or outer layer of a baby's skin is 20-30% thinner and therefore less resilient than adult skin which is why it's so important to use organic/natural products. Their skin both absorbs and loses moisture more quickly than adult skin which often makes babies' skin seem so dry. Also, external irritants penetrate infant skin more easily as the barrier is not yet fully developed hence why some children grow out of skin-related conditions.
We have seen success in treating skin complaints common in babies/early childhood such as eczema, dermatitis and itchiness which all comes back to the use of high-quality, certified organic products. Education really is the key – while the symptoms of some of these skin irritations can be cleared up quite quickly with creams that are riddled with synthetic active ingredients such as cortisone and other steroid type ingredients. They cannot be controlled unless suitable skincare products are continuously used to maintain a good healthy skin. So, unless the skin is healthy the symptoms will always reappear. This is why we formulated products to prevent symptoms by making the skin healthier rather than trying to cure the problem.
So, why 'Certified Organic'?
It seems that everyone is talking about natural and organic products and how they are a miracle for sensitive skin. Well, the question that really should be asked is WHY are natural and Certified Organic products so good? Clever marketing has enabled many companies to promote natural and organic without really having formulations that abide to this claim that makes me quite frustrated. Certified organic products give consumers the assurance that the products have been manufactured and handled according to strict guidelines and completely free of any chemicals. In that sense, organic is both a challenge and an opportunity. My personal aspiration is that everyone will have the choice to experience pure and natural products which are better for themselves, their children and for the environment.
The Certified Organic statement means everything to us as we truly believe that only the very best will do. We want to provide our customers with healthy and environmentally friendly products made from certified organic ingredients to produce a quality product that proudly holds the ACO (Australian Certified Organic) certification stamp of approval for authenticity. This is really something to look out for when considering the purchase of organic products to guarantee it really is organic.
What do you feel is the most toxic ingredient used in common baby products? Why?
There are a few ingredients that get up my nose so to speak and these are the various preservatives and foaming agents in many products that are A) known carcinogenics (cancer-causing) and B) proven skin irritants. The most frustrating of all this is that these ingredients do not need to be in formulations to make them consumer friendly and shelf stable. There are alternatives but would squeeze the bottom dollar of many companies so unfortunately they turn a blind eye.
Foaming agents produce bubbles or foam and as lovely as they appear, many people have come to believe that this is what cleans our skin – this of course is a myth. It's simply aesthetically pleasing and does little to actually clean. Eliminating foaming agents and using natural products significantly reduces childhood conditions.
Can you tell us about an incredible recovery of a condition from a child using natural products?
Many testimonials come by my desk which make me feel that each day we spend at Little Innoscents headquarters working hard to educate customers the benefits of our natural products is worth it. My most memorable comment was from a mother that had a 2 year old boy who they would wrap up in plastic wrap at night so he wouldn't scratch himself raw. She came by our range and gave it a go but wasn't too hopeful as she had a cupboard full of eczema remedies. Within 3 days she had seen remarkable results and after a week most of the scraping had a chance to heal and he was in much better spirits. She called to thank me profusely and to say that our nappy cream is a miracle cream. She now buys 4 or 5 at a time and is always requesting a larger tub!

What ingredients can be commonly found in natural products that provide additional health benefits?
Every product in our range in particular has been specifically tailored to produce the maximum benefit possible for that product. For example our nappy cream contains heaps of Calendula Co2 Extract which is in its purist form and leaves a lovely yellow tint to the cream. Calendula has many benefits such as being soothing on the skin and acts as an antibacterial. We use Australian White clay in our powder for its wonderful medicinal properties which draw out and eliminate toxins from the skin. Our vapour rub uses a select group of essential oils in a lovely beeswax to help bring relief and decongestion to the body.
Is there anything you wish you were told about parenthood that you can share?
I'm a little calmer now, less worried about the house being clean and arriving on time. I can laugh at the sillier times in life and spend time playing and messing around. I think you need to learn to be like this as kids are so unpredictable, it's just like they say… never work with animals or children you never know how they will go on the day.
Can you give some advice for living a long, happy and fulfilling life?
I laugh, I cry and I kiss the kids as much as I possible each day. I try to do what is pleasing in my life for me and this reflects on my family. I believe that if you are happy inside and fulfilled then all else does not matter and everything will sort itself out! I try to remember that money is not the object of happiness, it helps but there is much more fulfilment to see yourself changing people's lives.
And finally, where can we find Little Innoscents products?
Little Innoscents are available for purchase at all Toys R US, Mothercare stores, selected Pharmacies, Healthfood and Organic Stores, Thomas Dux Grocers, and online at http://www.littleinnoscents.com.au/. For further information or queries, simply call our Customer care 1300 554 980.